What place do personal beliefs and opinions have in an office?  On the one hand, conversations around the water-cooler about politics or religion can lead to tense working relationships to say the least.  On the other hand, conversations about the weather aren't conducive to building strong friendships.  The heated nature of political and religious discussions arises because those beliefs are fundamental to who we are and our personality.  We have an emotional investment in them and when the topics come up we start speaking with our emotions.  So instead we discuss the regular small-talk and keep our work-life and our private-life as far away from each other as possible.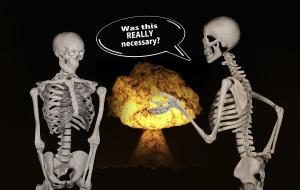 Now, personally, I think this is a fine status-quo for a large company.  Each employee represents the company first and foremost.  You aren't going to be friends with the CEO so the office small-talk when you're stuck in an elevator with him makes sense.  But I'm not so sure it's the best way for a smaller business.  The biggest advantage of a small business is the personal connection between the company and the customer.  The most important tool in building that personal connection?  Seeming like a person.
The Human Connection
The human connection is an amazing asset for small businesses, but it doesn't come out of thin air.  It comes from building friendships between you and your coworkers and between you and the customer.
When I go to a big box retailer that has zero personality, I'm not there to say hi to any of the staff, I'm there to get what I want and get out as quickly as possible, I'm polite to the staff of course but I don't want to hear their life stories.  But when I go to a small family-run business like my local donair restaurant, I want to know if the owner's car got fixed, how his kids are doing, if his wife got back from her trip, etc.  Sometimes it seems I stop in because of the personality: I want to catch up, rather than because I really want a donair.  Why?  Because since he doesn't have to represent a faceless corporation, he's free to chat about life while he prepares my donair and to infuse his workplace behaviour with his personality.
We Value Personality
Not to toot our own horn, but Panda Rose is another great example of that personal connection.  The other week I was sitting at my desk when the boss came over and said, "I need to see you in my office."  A single sentence that is able to put the fear of God into any employee.  When he said it to me all I could think was, "What have I done now . . . ?"  I walked into his office, gingerly sat down in the chair facing him, and prepared myself for the worst.  "I need your help finding a Catholic priest to bless our offices."
It goes without saying that I was taken aback ever so slightly.  This wasn't quite the phrase I was bracing myself for.  But I rallied myself sufficiently to manage a simple, "Uh . . . what?"
Because our office is such a tight-knit community, the boss knows that I'm Catholic.  We've seen each other at different Catholic events and I met him through a mutual Catholic friend of ours.  He also knows that I'm good friends with a lot of Catholic priests in the area.  So when he wanted to get a Catholic priest to bless our offices, he figured he could let me handle it.  I got my parish priest to drop by and bless the offices and as you can see, things have been going well so far!
It's All About Respect
How did this happen?  Because in our office environment we're comfortable talking about our opinions and beliefs and have respect for each other.  They don't dominate the discussion, and it's never in an argumentative or confrontational way. We know we can have conversations on the stereotypical taboo workplace topics because we have respect each other's feelings and opinions. We're able to understand each other and work as a team better when we don't struggle trying to walk on eggshells in conversations.
One important thing to emphasize is: don't be obnoxious. Don't grow resentful toward your co-worker because they voted for someone else.  Don't make every single conversation about your religion or your political beliefs. What I am saying, is that if you are able to have friendly conversations about controversial issues where both you and your coworker walk away understanding each other better, you've strengthened your team, not hurt it. Sometimes it is OK to talk about the weather or your kids.