Hey! Did you know that Panda Rose LOVES working within our local community? Even better, we happen to love the business that we work with in our community. So we have a great thing going here. Today I want to talk about the small city where we're located, Spruce Grove.
What's the deal with Spruce Grove?

Some of you out there might not have even heard of Spruce Grove, so I'll start with an introduction. Spruce Grove is located in Central Alberta, a few miles west of Edmonton. Spruce Grove was named after prominent array of spruce trees that scattered the landscape . . . and because apparently the name Poplar Grove was already taken. Funny thing, though, I can't find a Poplar Grove, AB anywhere on Google Maps. Too bad, Poplar Grove. Spruce Grove won.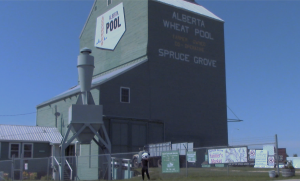 Anyway, Spruce Grove has a population of fewer than 40,000, but it's growing, and their main municipal competition now that Poplar Grove is gone is Stony Plain (more on them in another blog), but they compete for neither stones nor plains. Spruce Grove is large enough to have a full-time mayor, a job that most people don't want, but small enough that you can walk from one end of town to the other in about 90 minutes.
Spruce Grove is large enough to have a Walmart, several major grocery chains, and pretty much every thing one could need to avoid driving into Edmonton, and small enough that small businesses aren't crushed by the larger ones. There are businesses that have been around for over 40 years, still kept within the family, and there are brand new businesses that are just starting to grow. Panda Rose has had the pleasure of working with all types! I hope you don't mind (if you do, then too bad for you), but I want to talk about some of them.
The Medicine Shoppe Spruce Grove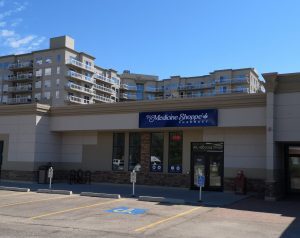 When I first started with Panda Rose back in Spring of 2017, one of the first websites I built was for The Medicine Shoppe Spruce Grove and now we handle their search engine optimisation. Their website is in its second incarnation now, but I was pretty proud of it. I've heard that The Medicine Shoppe offers some of the best service in town (I happen to live in a different neighbourhood, otherwise I would go there)! I get the impression that the whole Medicine Shoppe franchise simply offers all around excellent service! Now that's the kind of company we like to work with.
Laberge Engraving & Gifts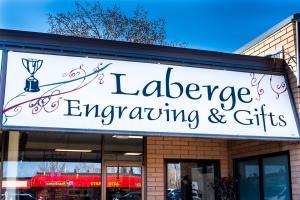 Laberge Engraving is another Spruce Grove treasure and client of ours. They might even be as old as Spruce Grove. One second, let me do the math. Ok, Spruce Grove established as a village in 1955, and was incorporated as a town in 1971. And now it's a city. But I don't know when it became a city, and can someone explain the difference to me between a town and a city? That one has me confused.
Anyway, Laberge Engraving was established in 1979. Well well well, it looks like Spruce Grove just barely wins. But does Spruce Grove engrave just about anything that can be clamped down? No it can't. So I think at the end of the day, Laberge Engraving and their 42 years of experience in engraving is the ultimate winner here. And it's true: if they can clamp it, they can engrave it. Soon people will be able to visit their website and order and preview custom engraved products; developing a unique product for that, which is pretty exciting for Laberge!
Maid in Alberta Cleaning Services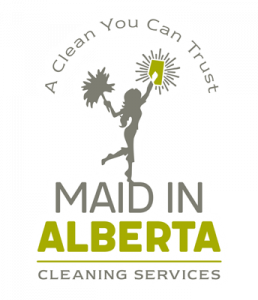 Now here's a favourite of mine. Let me introduce them with a few details first:
I have three small-medium children.
My children have never seen a mess they didn't like.
My children are seemingly incapable of cleaning up messes.
When I moved house last summer, I dreaded having to clean the house.
Maid in Alberta saved my bum BIG TIME.
So yes, Maid in Alberta is based out of Spruce Grove, but they actually work all over the greater Edmonton region. I'm sure you can guess by now what Maid in Alberta does. That's right, they clean. They clean homes, they do move-out cleans, they do office space cleaning, they just clean everything. And they even cleaned my disaster of a house when I moved last summer. Bless their brave souls. Not only that, but Panda Rose is a client of theirs! They clean our office weekly — again, brave souls. So while we do search engine optimisation for them, they do clean office optimisation for us. It's a beautiful, symbiotic relationship.
Kiwi Nurseries Ltd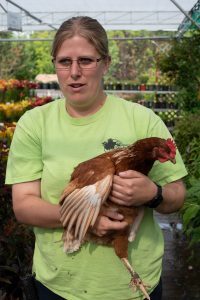 It wouldn't be a some-of-our-favourite-clients post without mentioning Kiwi Nurseries! While technically I think their address is Acheson, Google Maps doesn't even know WHAT to do with them, so we'll include them with us here in Spruce. Close enough for government work, as my husband would say. Kiwi Nurseries is the most delightful tree farm and plant nursery you'll ever encounter. I mean, it's the most delightful one that I've ever encountered, at least. They are knowledgeable on everything botanical, they can deliver trees to your front door (well, perhaps not your FRONT DOOR exactly, since that'd be a terrible place to deliver a tree), and they've even got chickens! I can't say why this might be of importance to anyone, but I just like the fact that they have chickens.
Kiwi Nurseries is a great family operation and you won't regret going there. Check out one of their educational seminars or seasonal family events too! They've even got a coffee cart. And hey, Kiwi Nurseries has been around the same length of time as Laberge Engraving! For their 40th anniversary, we redesigned their website and built a custom fundraising site for them, which we are now implementing for another client. 1 APRIL 2021 – MAJOR UPDATE: Now they have ducks.
Solare Canada Inc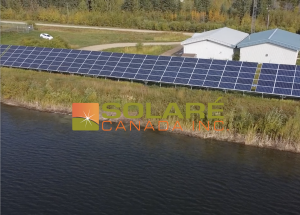 If there's one thing I hear a lot around here, it's people complaining about how cold it is. But I, being from the west coast where it rains a lot and 9 months of the year it's just cloud cover, happen to appreciate that what it really does here is it SUNS a lot. I mean, it's REALLY sunny here. And what does that sun come in handy for? Not just sunscreen salesmen trying to sell sunscreen to white people like me, but ALSO people like Rik Kaminsky, the owner of Solaré Canada Inc (Soh-LAH-ray, three syllables). Solaré specialises in the design and installation of solar panels, as well as LED lighting systems. Go check out their beautiful website that we built. It's worth it just for the drone footage on the front page!
Dochas Psychological Services Inc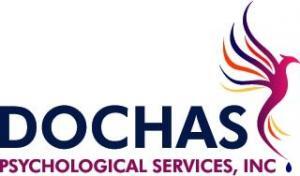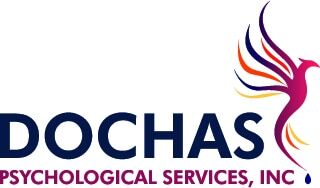 Another local client is one that we, and everyone else ought to consider very important: Dochas Psychological Services Inc. We designed and built their website and have done custom software development, and we maintain their IT services. In a time when people's mental health is suffering through lockdowns and isolation, it is more important that ever that people have access to psychological services, so we like to make sure they are always up and running. 'Nuff said.
Panda Rose Consulting Studios, Inc
I might be biased, but Panda Rose is our favourite client. Oh, what? Ourselves? Yes, we trust ourselves so much, that we even do work for ourselves. They keep me busy; the tasks never end! But I sure have a lot of fun with them, whether it's writing blogs, helping out our clients with their projects, running around the greater Edmonton area and taking strange videos with Tim with a Panda on his head, designing and building websites, doing SEO, and of course helping build our own website and contributing to our own social media.
While I can't include the entire list of clients that we've served in the Spruce Grove area, these are among the ones that have really left an impression on me. Have you been one of our clients and I didn't name you? Give me a shout out in the comments and I'll edit the post to include you!