Create a Facebook Business Manager Account
Create a Facebook Business Manager Account and
add your first page
If you're a brand working with a social media consultant or agency that is looking to manage your page and/or your Facebook Ad account, then Facebook Business Manager is the centralized platform that will allow this to happen.
Facebook Business Manager allows you to easily add or remove your staff members managing your Facebook page/s and ad account/s from one centralized place.
The other added benefit of Facebook Business Manager is that it allows you to add and manage multiple ad accounts, payment sources, and Facebook pages, again, from one centralized place. This also makes Business Manager ideal for brands with multiple Facebook pages and ad accounts.
If anyone ever leaves the business, Facebook Business Manager allows you to terminate their access to all accounts easily.
2. Enter a name for your business, select the primary page and enter your name and work email address. Move through the rest of the onboarding flow by entering the rest of the required fields.
Add a Facebook Page to your Business Manager
Adding a Facebook Page to your Business Manager, means you can manage your Page's activity with one tool. Adding a Page to your Business Manager is claiming your business owns that Page.
Note: Adding a Page to your Business Manager account is not the same process as claiming responsibility for a Page. You must go through the business verification process to do this. 
You must have a primary Page to request access to or add another verified Page. 

To add a Page to Business Manager, you must also have been an admin on the Page for more than seven days. If you aren't an admin on the Page, you'll have to request access to the Page.

You must be an admin in the Business Manager.

The Page you're trying to add can't be owned by another person or business. Each Page can only be owned by one business. If you want to add a Page you don't own, the Page's owner can transfer ownership of the Page to you.

If your Page is linked to an Instagram business account, you should also add your Instagram business account to your Business Manager. 
Add a page to business manager
Go to Business settings. It looks like a gear icon in your sidebar.
Go to More Business settings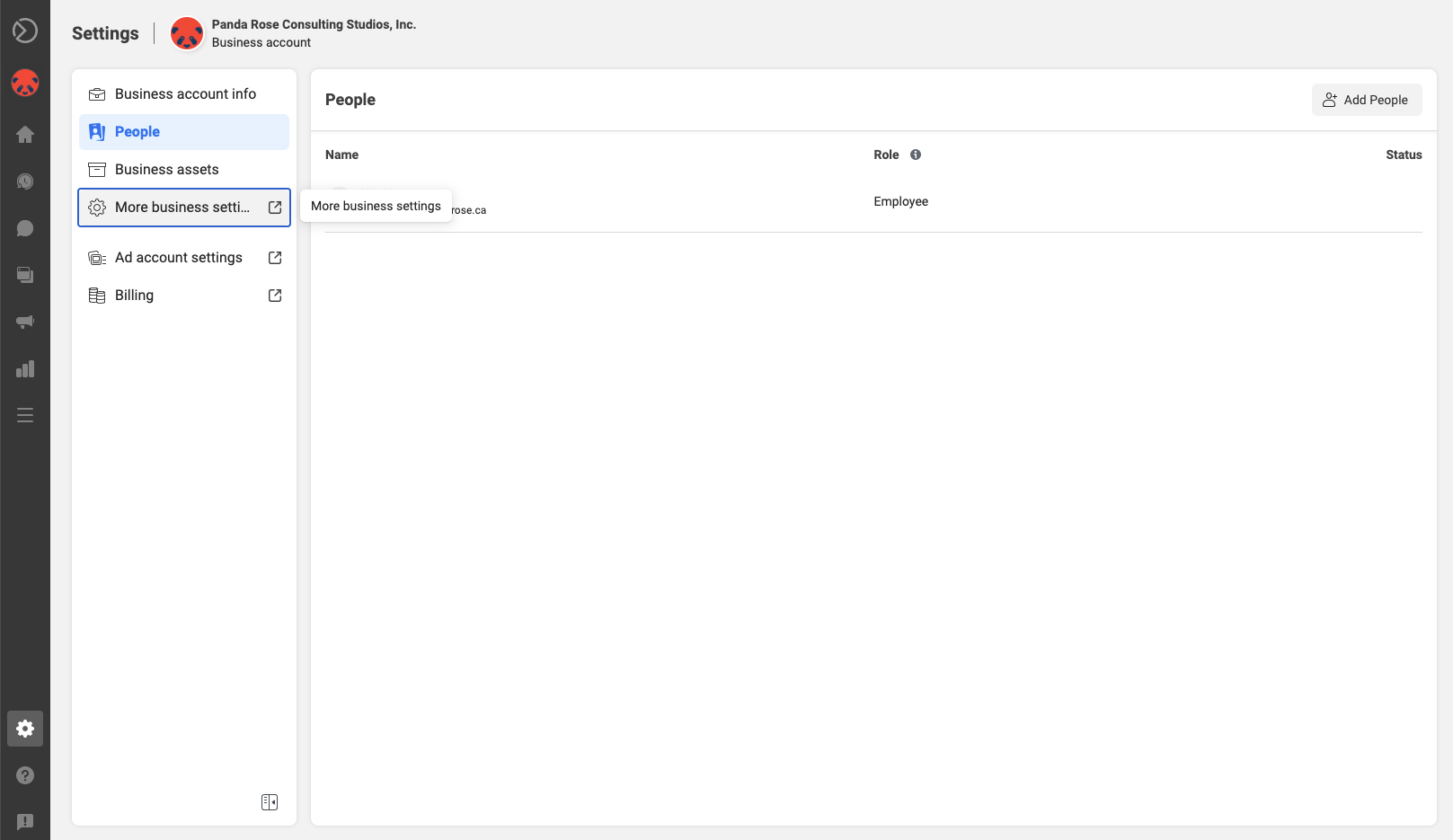 3. In the Business assets section, click Accounts. Then, click Pages.

4. Click Add in the drop-down menu.
5.Select Add a Page.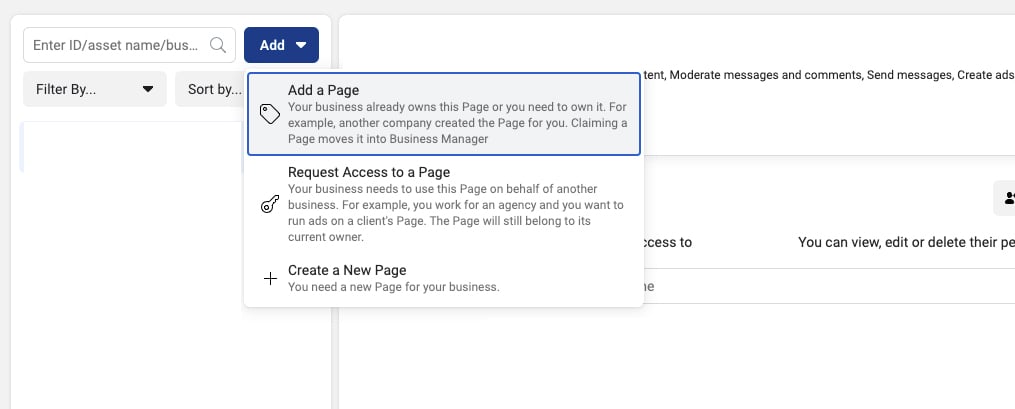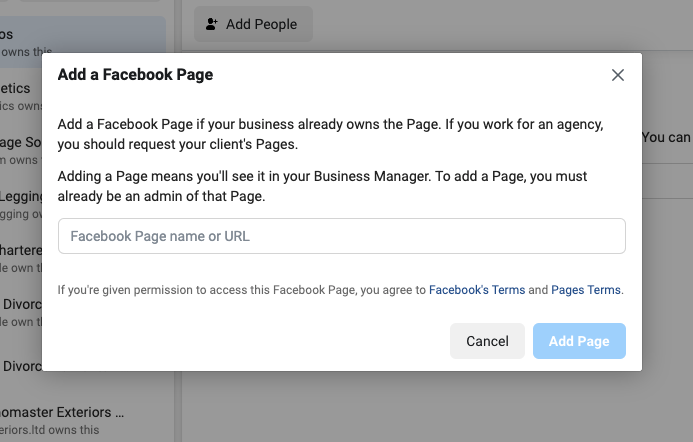 6. Enter the Facebook Page name or URL.
7. Click Add Page. You should see your Page on the next screen. From here, you can add people to manage this Page.
Note: Anyone who had access to the Page before it was added to Business Manager will still be able to access and manage the Page.
Be sure you add yourself to your business manager
1. Click People. 
2. Click +Add. 
3. Enter your work email.
4. Select  Admin access. 
5. Click Next.
6. Click Invite.
Give us a call and find out how Panda Rose can
support your organization's digital future.